Jerimiah Orphanage Child Care Ministry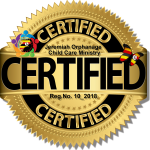 Jerimiah Orphanage Child Care Ministry
Jerimiah Orphanage Child Care  Ministry was started in 2015, The aim of starting this orphanage is to change the life of orphans in our community and we are helping the needy and the orphans by providing with scholastic material like books, pencils, sets and also food, medical, and school fees.
Our orphanage has 35 children orphans and 5 widows.
So we are looking for supporter!
contact information:
Matendi Aji
Mafubira-Jinja, Uganda
TEL. +256 755667142
Email: ajimatende@gmail.com